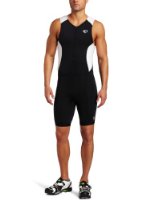 For every activity, there is apparel that goes with it, and for triathlon athletes, a Tri Suit is their go to apparel for it can be worn for all the levels of triathlon. While some people choose to wear their Tri Suit under their wet suit, most will only wear their Tri Suit and start their competition wearing the same apparel they will be wearing at the finish line.
A Tri Suit should be chosen carefully, for not only is it not the cheapest peace of apparel one will own, because of its function, it has to have certain features to make it worth your money and consideration when you are looking to buy. So here is what to look for in a Tri Suit: comfort, durability, and functionality.
If you are a beginner triathlon athlete, you should get a suit that is cheaper, as you should feel the different suits for yourself, and see what are the features you like and what are the features you do not like, for the more expensive suits are each designed with comfort and speed in mind, but each could have different features that might not be to your liking.
A triathlon's first leg is swimming. What will make your suit comfortable for this level is how water repellant it is, and how closely it contours your body. You want the least amount of friction and drag when swimming. This is especially important if the race you are competing in does not require you to wear a wet suit.
The next step of a triathlon is biking. For this purpose, your suit should have features that will both make it comfortable on the bike, and let it dry quickly. Many Tri Suits feature a pad or chamois that allow for comfort on the bike saddle. You should make sure that the pad does not chafe and does not slow you down during the running leg.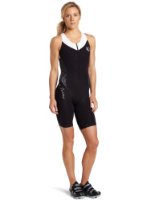 The chamois should be thin and your suit should be breathable for the suit to dry quickly. Most suits come with modern technology that allows them to dry quickly. The level, to which your suit repels the water while swimming, will come in handy here as the more water repellant it is, the faster it will dry. A mesh paneling on the suit will also help both its breathable quality and the speed at which it dries.
The last leg of the triathlon is running. For this leg, you will want a suit that is very light, and has flat stitching that lies flat against your skin and will not cause chafing while you run. Additionally, check to see if the suit has leg grabbers, or extra friction pads on the inside of the legs of the suite. This keeps the suit from riding up while you are running or biking.
For women suits, it is good to get a suit that has a padded bra built in, as wearing less layers and allowing your skin to breathe is quite important.