My journey from "couch potato" to triathlete really began back in 2003, and this flyer produced by Virgin Active tells that beginning quite well…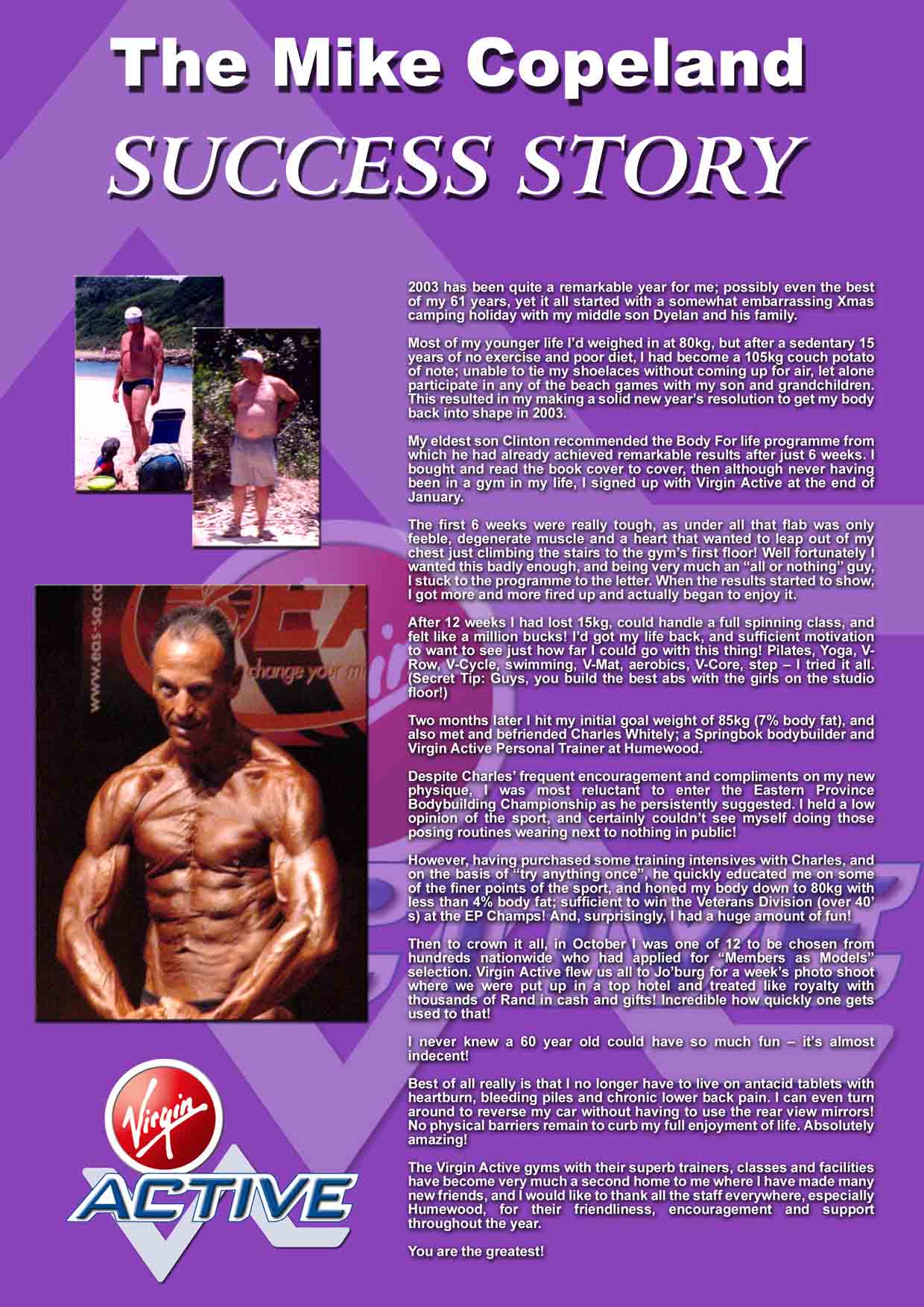 I remained an active gym enthusiast and "body builder" (but never competed again!); steadily increasing muscle mass to a point where I weighed 98kg!
Then in November 2007 , another dramatic event changed my course once more…
I had long admired triathletes, and can clearly remember standing on the Shark Rock Pier to watch the start of the first PE Ironman in 2005. I was completely awestruck when glancing around the distant bouys that marked the 3.8km swim course and then knowing there would still be a 180km bike ride AND 42.2km marathon run to follow!
Each one of those 1500 odd athletes lined up on the beach in the early dawn with African drums beating, had my complete and utter admiration for having the guts to even try such a thing, let alone finish!
I had avoided all endurance sports my whole life (the annual compulsory cross-country run at school was my worst nightmare!), and with a somewhat chronic old rugby hip injury, could not now run more than 10 meters.
Then at the gym that November afternoon, someone stole my car…
The thief was apprehended, but I only got the car back after two weeks. Walking the 2.5km to the gym became slow and boring, so I resolved to "jog a lampole, walk three", and slowly increased the jogging distance until amazingly I was able to go the whole way there and back (5km) by the time my car was returned!
And so it is that I resolved to now take up the ultimate challenge and learn to swim freestyle, ride a bike and run (despite never having done any of these before!) so as to give this triathlon thing a full go!
Then perhaps too one day I'll stand among the 1500 strong lined up on the beach one early April dawn…