Download Results for my 65 to 69 age group.
This was one of the most amazing experiences of my life and most grateful thanks go to my sponsors Sign Africa and Supplements SA for their kind generosity which made it all possible.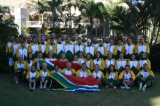 3049 athletes from across the world descended on Australia's Gold Coast for the 2009 ITU Triathlon World Championships as the top age group competitors went head to head over both the sprint and standard distances alongside their para-triathlon counterparts.
The host nation submitted the largest team with 989 triathletes taking to the course, with Great Britain in second, fielding a massive squad of 408 who made the journey to the other side of the world. The USA took the bronze medal in the participant number, just 16 athletes less than Great Britain with 392. 378 triathletes from neighbouring New Zealand also made the trip.
Some athletes made their way from as far afield as Venezuela, Oman, Norway, Morocco, Liechtenstein, Guatemala, Mauritius and Kazakhstan, ensuring that the strong turnouts from the larger countries were matched with passion and enthusiasm from the smaller triathlon nations.
Australia were the big winners in the standard distance competition taking ten gold medals, ahead of the USA on eight. There were also gold medals heading back to Great Britain, Canada, France and Spain.
Travel and Accommodation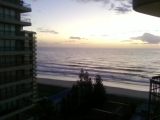 My daughter Ayesha fetched me from my flat in Port Elizabeth on the morning of Saturday 5th September at 06h30 for the flight to Brisbane via Johannesburg and Sydney where I met up with the rest of the SA team.
Last leg then was a 90 minute bus ride from Brisbane to the venue accommodation at Southport on the Gold Coast arriving at 23h30 on Sunday night – 33hrs travel time with lugging an oversized 28kg bike case through all the stopovers, lifts and terminal transfer busses!
My Race
We all had to rack our bikes on the Friday afternoon where they spent the night in the transition area, leaving us just to setup our racing gear the next morning.
Weather on race day was absolutely perfect! Temperature 18 to 24 Celsius with cloudless skies and no wind!
Racing started at 07h00 with the para-triathletes followed by each gender age group in waves some minutes apart from youngest to oldest in their own different colored swim caps. Us 65 to 69 year old's were therefore one of the last starting at 09h27, which also meant that our run leg would also be in the heat of the day.
The tension amongst the athletes as we slipped into our wetsuits before the start was quite electric.
To be continued…